There is something special about forgotten vintage pieces that have been abandoned because others have not been able to recognize their old world charm.  Especially when you can just imagine how necessary or essential that piece was in someone's life at some point in time. This is why I love flea markets and antique shows. It gives those of us with an appreciation for these abandoned pieces the chance to give them a home once again. 


At the Marigold Days Antique and Flea Market in Mantorville, MN the vintage toolbox that you see above was being used to display so many items that you could hardly see it underneath the more "desirable" items. For some reason I was able to see past everything that covered it and just knew it had to come home with us because I was so captivated by it's sturdy, yet worn and aged appearance. This toolbox, such a random thing for me to be drawn to, was authentically distressed. Just my style.
Thank goodness my husband was with me because this toolbox is made of solid wood and covered with metal. There was no way I could have carried it back to the car on my own because it was so heavy. 
A few booths down I found a vintage Nash's Coffee metal store display shelf that was the perfect size for the space in my kitchen where I had wanted to place a shelf. I took a gamble (since the toolbox was already on it's way back to the car) that the toolbox and shelf would work together. I figured the shelf would need a little modification but nothing that my handsome handy husband couldn't figure out. We got them home, placed them in the space where they would go and decided that only the top shelf had to come off. The toolbox fit perfectly on top of the store display shelf as if they were meant to be together. 
The red color of the shelf wasn't working in my black and white kitchen so I did some searching online on how to faux rust metal. I wanted the shelf to be a darker color, but I couldn't just paint it and leave it. It needed to have have a similar aged look as the toolbox. I decided on Rust-Oleum Forged Hammered Paint and Primer in Burnished Amber and Rust-Oleum Rusty Metal Primer. 

Here are the steps I took to get the rusty metal look....

Step #1 I first spray painted the entire shelf with the Rust-Oleum Forged Hammered Paint and Primer in Burnished Amber.
Step #2 I then sprayed a small section with water. 
Step #3 I liberally brushed on the Rust-Oleum Rusty Metal Primer with a paint brush. 
Step #4 I immediately sprayed the area again with water. 
Step #5 I quickly sponged the area lightly, and then wiped most of the paint away. 
While you can never perfectly duplicate true rusty metal, I think this process looks pretty darn close. The handle of the toolbox is natural rusted metal with a coat of polyacrylic and the shelf is the faux rusted metal. I did not want the shelf too shiny so I only put a coat of the polyacrylic on the toolbox. The reason for this is because the polyacrylic brought out so much more of the character and age of the toolbox. I had power washed it previously and it was a little too dull for me. Water-based polyacrylic gives metal and wood a nice sheen without being overly shiny. 
The result of the faux rusty metal paint job and the slight doctoring up of the toolbox makes me really happy. The shelf and toolbox have a home once again. Even though this toolbox is quite large, I decided against using it for storage since I have no idea what it was originally used for. 

The vintage Zero fan that I picked up at Oronoco Gold Rush Days displays perfectly in this space now.
I'm not one for cookie-cutter design or decor. The last thing I want is for my home to be completely filled with mass-produced furniture or decor. So far I have accomplished that by only having a few furniture pieces that are mass produced - everything else is repurposed or built by my husband. This upcycled vintage toolbox shelf is a unique piece that will be loved in our home for a very long time. 
I hope this Upcycled Vintage Toolbox Shelf post inspired you to give something abandoned a new home! Be sure to follow along on Instagram, Facebook, and Pinterest! If you have any questions or comments, I would love to hear from you! You can always send an email too! I just really love to hear from my readers! :)
---
Thanks so much for the feature Dagmar Bleasdale!
Shared with ..... 
Creative Muster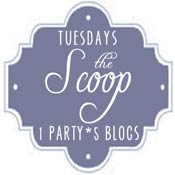 A Stroll Thru Life